Are you a professional Santa? Get your own customized Sleigh Driver's License!
ProSantaLicense.com offers a PERSONALIZED novelty Sleigh Driver's License. It's the must have accessory for the professional Santa Claus. It's your very own Santa ID card that is personalized with your photo and information!
Now you can have your own Santa Claus Sleigh Driver's License… that is customized with your picture and information on it! You can make kids of all ages believe Santa Claus really exists by getting your own official North Pole, Department of Public Safety issued, Santa Claus Sleigh License!
Features:
Proudly made in the USA
Free Shipping to USA
High Quality Printing
Durable Plastic Card
Standard Credit Card Size
Die Cut Rounded Corners
Realistic North Pole Seal

ProSantaLicense is a high quality, durable plastic PVC card that will last for years. The printing is high resolution, high quality color. Our durable plastic PVC card is die cut with rounded corners in standard credit card size (3.370 × 2.125 in).
The ProSantaLicense design was based off of a real state issued driver license and looks completely genuine! This isn't your ordinary novelty Santa license!
The front of ProSantaLicense features an official looking seal of the North Pole Department of Public safety, YOUR photo and information, and Santa's signature. Featured on the back side of your ProSantaLicense you'll find a list of endorsements & restrictions, along with our QR code.
Choose your card - we offer one for Santa, Mrs. Santa or an Elf..
ProSantaLicense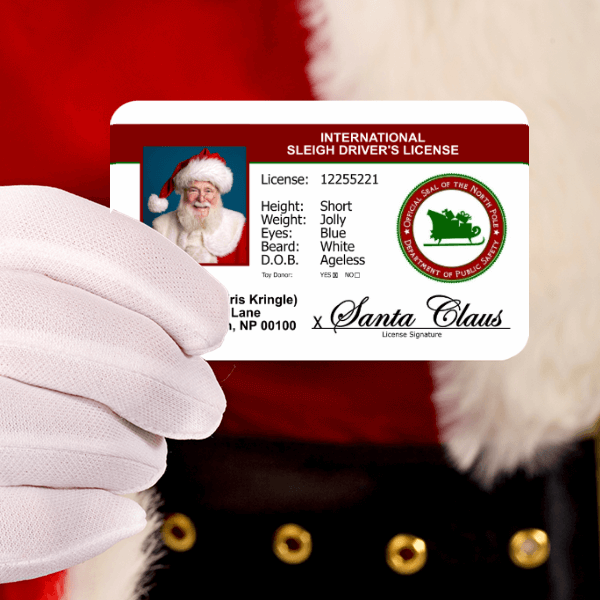 Mrs. ProSantaLicense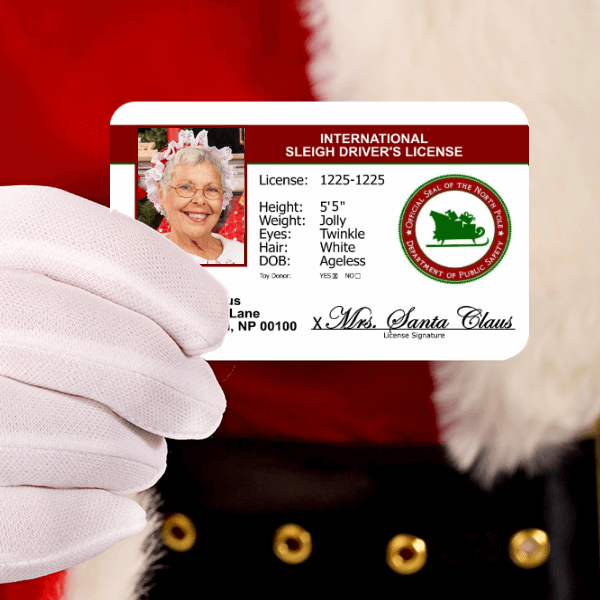 Elf ProSantaLicense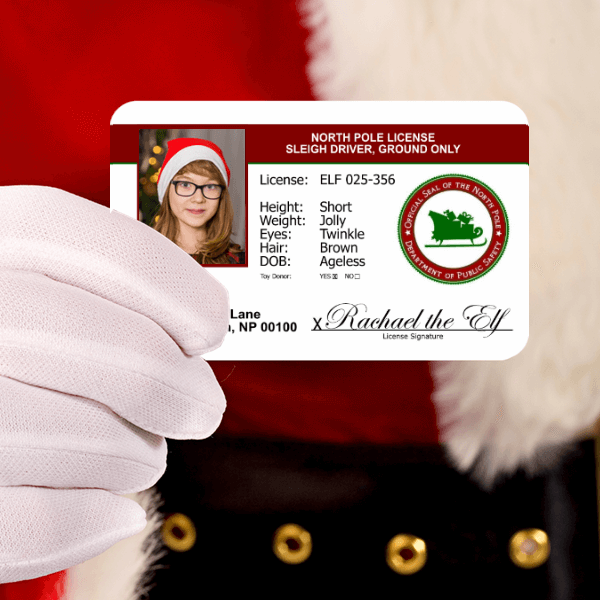 What our happy customers are saying...

I got my ProSantaLicense today and I love it.

I received my Santa Claus License! It is amazing!! I cannot wait to use it. The quality, detail and realism are top notch. Thanks for the quick service and great customer service.

Thank you very much, everybody gets a kick out of it!

My Pro Santa License has made a firm believer out of many a "child" (no matter their chronological age). These are one of Santa's best tools to turn a doubter from the dark side.

Wow! My Santa Claus License looks completely real! Great job!
ProSantaLicense is proudly made in the USA!
Order with confidence as we guarantee fast turnaround and outstanding customer service for our high quality plastic Santa ID cards! We provide friendly expert online assistance throughout the entire process to ensure that our customers get the best quality product!
ProSantaLicense is simple and fast to order!
You get to select your Santa ID information from a list of pre-set options, and upload your image. That's it! The entire process takes just a few moments. For quickest ordering, be sure to have your high resolution photo ready when you place your order.
Helpful tip: To make sure your Professional Santa License is the best quality... be sure to upload a high resolution digital picture (at least 300dpi, no larger than 2MB size). For best results we suggest your photo be a close up, taken on solid dark or light colored backgrounds. We will crop, and re-size your picture to fit the card appropriately.